Description
This service includes sectioning, ISNT labeling, coverslipping and labeling of slides. As a result, you will receive up to 40 ISNT-labeled sections per brain or per tissue block ready for microscopic observations.
Procedure:  Unfixed frozen tissue will be cut on a cryostat and mounted on proteinase-resistant microscope slides (cf. Products, Cat. #PO102). Sections cut through various levels (or the levels of your choice) will be processed on slides for the detection of neurodegeneration with in situ nick translation technique¹.
This technique, originally described by Gold et al. (1993)¹, labels the nuclei of neurons undergoing DNA fragmentation. This method is based on the ability of DNA polymerase I to catalyze the polymerization of deoxyuridines onto the ends of DNA fragments. The integrated biotins are amplified and visualized by the avidin-biotin-complex methods² (cf. photo sample below).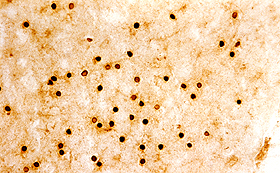 Remarks:
A quotation is required before placing an order.
The investigator needs to provide unfixed frozen tissue.
Please contact us for more information.
References:
Gold R., Schmied M., Rothe G., Zischler H., Breitschopf H., Wekerle H. and Lassmann H. (1993) Detection of DNA fragmentation in apoptosis: application of in situ nick translation to cell culture systems and tissue sections. J. Histochem. Cytochem. 41: 1023-1030.
Hsu S. M., Raine L. and Fanger H. (1981) Use of avidin-biotin-peroxidase complex (ABC) in immunoperoxidase techniques: a comparison between ABC and unlabeled antibody (PAP) procedures. J. Histochem. Cytochem. 29: 577-580.